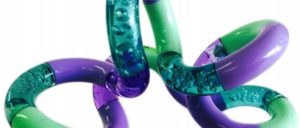 Move over branded stress balls! This twistable tangleable toy is the perfect fidget piece to keep on a desk.
Unleash this stress-busting toy to your customers with your logo printed on it. Or give the VIP version in chrome!
Many people find that fidgeting reduces their stress levels, which is why stress balls have been popular office gifts for so long. Now, there's a new way to get your brand in your customers hands!