After a two year break the Tui Catch a Million campaign was back in 2017/2018. Cricket fans could win their share of $1,000,000 by catching the ball one handed in the stadium, while wearing a Tui T-Shirt. Every campaign a new t-shirt design was created for the breweries and this year Mr Vintage were proud to be the designers and producers behind the Tui T-shirt.
The design was visually strong and seamlessly incorporated elements of the Tui, NZ Cricket & Mr Vintage brand. The T-Shirt featured the iconic cable knit vest, sublimated all over in vibrant Tui orange, with a custom Mr Vintage neck tag. The material used was a lightweight, 100% ring spun polyester, quick drying fabric with a UPF 50+ finish – perfect for the summer cricket conditions. The design was on brand, of a high quality and the T-Shirt was available as a gift with purchase in liquor stores or to buy online at Mr Vintage or at the games.

Boost Promotions handled the end-to-end distribution throughout the entire campaign. Mr Vintage promoted the t-shirts on search engines, email marketing, social media channels and had a dedicated landing page on their website. As a leading promotional solution agency it is important for Boost to achieve high perceived value of promotional products and apparel, and we are proud to have accomplished this with the Tui Catch a Million T-Shirts.
The Tui merchandise was hugely successful and won two awards at APPA New Zealand in 2018. These awards included Platinum for outstanding overall excellence, and first place in the Apparel/Wearable Products category.
What the judges had to say:

"Great concepts that stood out and suited the purpose of the project. Great sales of the t-shirts through the three distribution outlets and great reach through social media channels."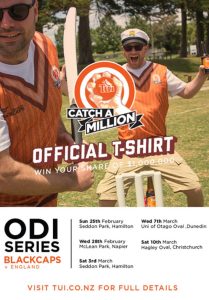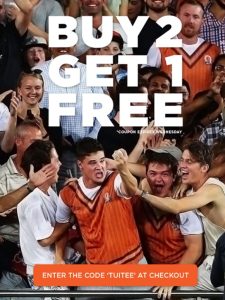 "Great job. Design is on brand with Tui, yet is stylish enough for the customer to want to wear at all cricket games to further promote the brand long after the campaign has ended.  The sales stats and digital reach demonstrate a clear link between the client outcomes and the t-shirt."

"Great design, print quality and perfect selection of print method and T shirt style for the summer weather. Strong supporting evidence of results."

"Great fit with the overall promotional campaign. Catch a Million is already a well known campaign, these new shirts complement this and are highly eye catching. Great awareness stats, and integration between the t-shirt, POS and overall brand."

"Great development of the original successful campaign, great brand exposure on TV. Love the integration of the traditional cricket vest with modern Mr Vintage t-shirt. Good quality tee and looks great on camera."