CORPORATE MERCHANDISE HANDBOOK
Collaborate with Mr Vintage
Throw a dart at a wall of NZ brands, local pop culture phenomena, sporting events, NZ personalities – chances are Mr Vintage have made a t-shirt about it. Since 2004 they have nurtured countless working relationships with many of New Zealand's most iconic brands, artists, charities, corporates and personalities.
In doing so they've been able to collaborate and create a lot of work that they're incredibly proud of. They'll conceptualise, design and manufacture co-branded products with you that are desired, innovative and more importantly… worn.
"Their tees are everywhere; and if you don't own one, you more than likely know someone who does."
– UNKNOWN STRANGER OVERHEARD AT A PARTY ONE TIME (circa 2010)
This is very much a collaborative process with the aim of creating a product that both brands are proud to be associated with. Generally, you'll come to the table with a few ideas, what you want to achieve, brand standards, existing artwork and some references for inspiration. From the initial brief, we'll go away and brainstorm ideas and concepts for product design, packaging and promotion. The concepts will start off as initial sketches and we'll communicate throughout the process. After feedback and revisions, we'll produce final artwork that both brands are happy with.
A huge part of our business is marketing and promotion. Social media was the foundation on which we built our brand and still to this day it enables us to communicate and engage with our audience in a unique natural and non-contrived way. When we release new product collaborations we'll make a big song and dance on our website and put it out to the following databases:
EMAIL 50,000 | FACEBOOK 55,000 | INSTAGRAM 5,000
Synergy. It's a buzz-word we're pretty passionate about here. Heck, we've even got a framed 'promote synergy' post-it note on our office wall. We've always been a sucker for synergy and collaborating with like-minded brands since our early days. If you have a brand that connects with our customer, there is a better than good chance we'll want to retail your branded product on mrvintage.co.nz and potentially through our wholesale network of 50+ retail stores. We'll also pay you a royalty from each sale and provide you with quarterly reports with a detailed breakdown of sales and campaign analytics.
As well as the established screen-printing method, we also use the latest digital and sublimation printing methods. This enables us to create all-over printed apparel and customised prints. With the help of our production partners we also use traditional embroidery and can decorate apparel with details such as leather patches, felt applique, custom neck labels, right through to custom cut and sewn garments.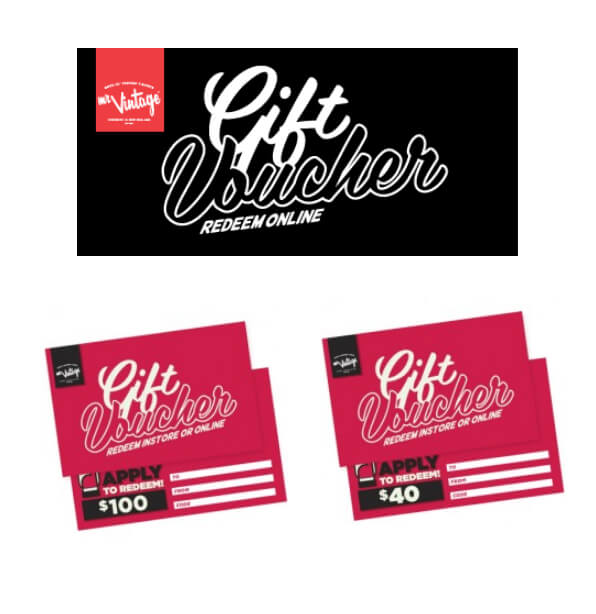 THE PERFECT LAST MINUTE GIFT FOR STAFF OR CLIENTS
Give your hard working employees recognition and reward them with a Mr Vintage Gift Voucher. Available in a range of denominations from $20-$100+. Available to use on any products on the Mr Vintage Website. The gift vouchers are available online so there's no waiting around, add in all the details and a link to your voucher will be sent straight away by email. We also offer printed gift vouchers and a discount for larger order quantities, enquire today to find out more.
FREQUENTLY ASKED QUESTIONS
Below you'll find the most frequently asked questions we get from brands that are interested in working with Mr Vintage.
How much input do you need from us for the design brief?
A little bit. This mostly includes specific requirements such as, who is the intended end user, what text, logos, messaging that needs to be included in the design. Then a direction of where you envisage the creative design going – based on visual examples we would provide you.
What is the minimum order quantity?
Our t-shirt and printing pricing is very similar to what you would find else where, the difference being our creative cost – which we build in to the final cost price. So if you're ordering a couple hundred tees the difference is only a few dollars, however the perceived value to the recipient is much greater.
We do everything in-house so we can move pretty quickly if need be. However, in an ideal world we'd prefer at least 3 weeks for design and 2 weeks for production.
Will you sell the t-shirt on mrvintage.co.nz as well?
If you've got a brand that has great synergy with ours and we think our customers would buy and wear your brand, we'd love to retail your t-shirt. We've done this for a lot of iconic NZ brands and we know our customers have an appetite for it.
If we buy a bulk lot of tees, can you send all the t-shirts out to individual addresses?
Sure can. You just supply us with a list of what we need to send where and we'll get it done.
Get in touch today to discuss your next promotion, or to order gift vouchers for Christmas
Mr Vintage have been working with many of New Zealand's leading brands for the past 12 years producing custom made printed T-shirts and merchandise. From initial design to production, packaging, and promotion, every step is covered.
Whether it's celebrating an iconic NZ moment, collaborating with a NZ brand, artist, creating a chariTEE to raise funds and awareness for a much needed cause, to a topical sporting tee which help facilitate a real sense of Kiwi community.
This exciting addition to the BOOST family provides a unique opportunity for New Zealand brands to make an impact with exclusive custom designed merchandise that kiwis love to wear. From items for a product launch, win in store prizes, gift with purchase or stylish uniforms, Mr Vintage can help!
Phone: 09 892 5768
Email: [email protected]
Website: www.mrvintage.co.nz
Hours: Monday-Friday, 8.30am – 5.00pm
Head office: 11B Douglas Alexander Parade, Rosedale Auckland
We've worked with a number of top NZ brands already, and if you're looking for an innovative way to promote your brand without it just being a 'same-old, same-old' promo tee – we're your guys (maybe).